Can Personalization Radically Change the User Experience of Consulting Food Labels?
Can a personalized user experience from a food label app affect a consumer's ability to make thoughtful, health-oriented food choices? Looking up the nutritional values of foods is tedious, and the information isn't typically customized to the user. As a result, dieters get frustrated and find information minimally helpful whether they're trying to lose weight or track nutritional macros. A new startup, Sage, is offering a streamlined online experience that personalizes nutritional info based on a user's vital statistics.
The company's offering gives a window into an essential user experience design question that every business faces: Can personalizing the online experience and increasing content relevancy encourage buyers to purchase more, become brand advocates, or meet other critical key performance indicators (KPIs) for growth? Let's take a closer look at personalization trends in user experience design and what brands can learn from the Sage case study.
Personalization: The UX Golden Goose
In the worlds of design and marketing, personalization is a hot topic. Individuals often expect to visit a website and see content tailored based on their location, interests, and devices. Many e-commerce sites retain a history of what consumers have purchased, making related product recommendations through email marketing or when visitors return to browse through the site. Thanks to ad retargeting software, advertisements of products or services buyers have viewed online even follow them around the web.
The statistics underscore the importance of personalization in the current user experience design context. One recent study revealed that near three-fourths of customers abandon websites that show content not relevant to their interests. Ninety-four percent of marketers surveyed by Econsultancy in their "Reality of Online Personalization" report believe that personalization is key to today's user experience; on average, retailers implementing it experienced a 19% lift in sales. One company profiled by RetailWire suggests that they're serving up 1.2 million "personalized versions" of their website, and that the number could rise to 3.5 million versions by the end of the year.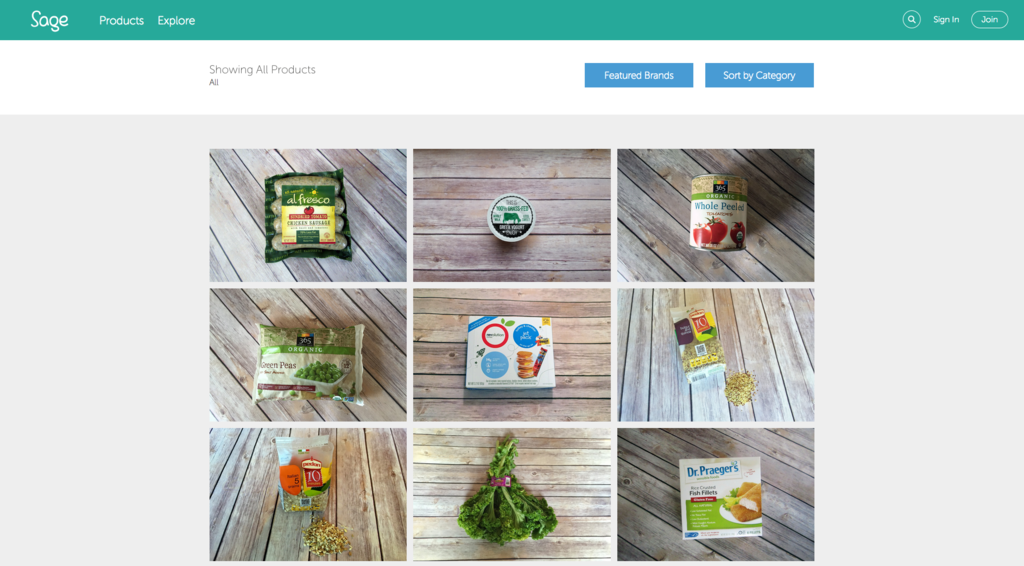 Sage: Personalizing Nutrition
Our national obesity crisis and fascination with nutrition have created a space that's ripe for innovative user experience design. The team behind Sage identified a real need: customizing information to a person's individual statistics and goals. Users sign up and are taken through a guided questionnaire in which they share information on gender, height, weight, food allergies, activity levels, and other info. The software then makes recommendations for calories, and provides in-depth breakdowns of a couple thousand products in their database. Nutritional data is currently added on an ongoing basis via crowdsourced nutritionists.
Sage has been described as a "data visualization platform" and that's essential to the user design. It's not just about customizing a serving size or calorie count based on a user's weight and height. Instead, the platform is structured to be interactive, highly visual, and impose a layer of meaning and structure over the nutritional data. Consider the breakdown below, for one serving of organic blackberries for a 120 lb woman.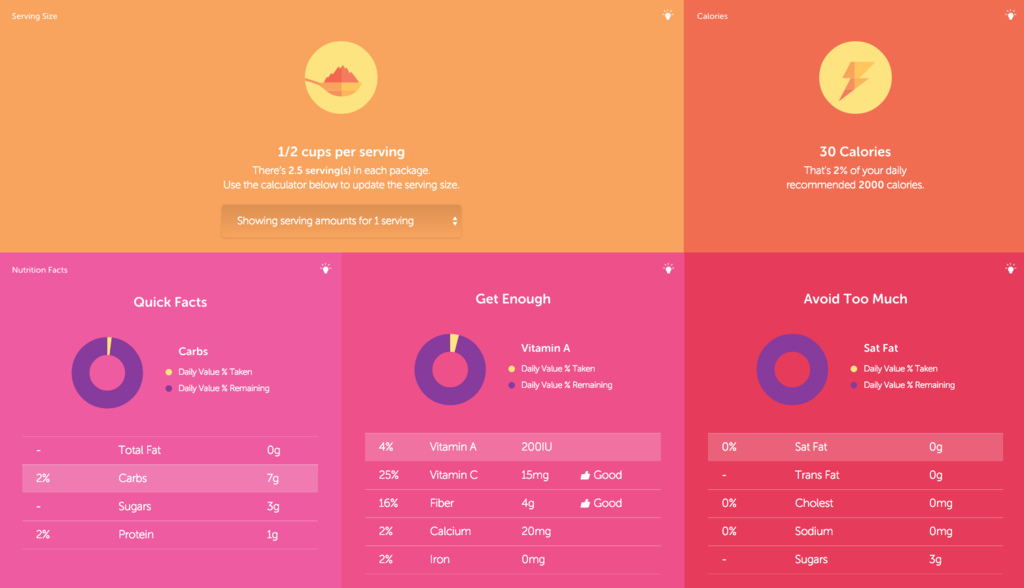 A quick visual representation helps users put foods into perspective, vis-à-vis their dietary goals or target diet requirements. Simple drop-down menus make it easy to adjust the data intuitively. Each product page also provides breakdowns that clearly connect to the user demographic. For example, consider how many times have you heard a person say, "I'd need to run five miles to burn off that cake." The software offers that information automatically through its exercise equivalent visualization.

It's early days for Sage, but it's easy to see why the product has been written about in TechCrunch and Fast Company. The site is playing to some of the hottest design trends of the moment. Each product page is a single page design, leveraging parallax scrolling. Vertical navigation keeps layouts clean. Interactivity, data visualization, and blocky colorful design speak to Millennials. There's room for improvements, which the founder has noted in interviews, but the base is promising. Smart user experience design can take something that's historically been a necessary but uninteresting task and make it sexy and engaging.
Elements to Consider for Personalized User Experience Design
There are numerous factors to consider when developing a personalized user experience design for your site. Here are a few essential elements that should be part of your strategy, as reflected in the Sage case study.
Sourcing your personalization data: Personalization can rely on information that's passively relayed to your servers, such as IP address, device type, or tie-outs to other systems, such as a customer relationship management (CRM) system. There's also an approach to personalization that allows users to participate in sharing their own information. Sage users go through a questionnaire upon sign-up to share their gender, weight, height, activity level, goals, and more. Passive personalization feels more seamless; active personalization gives consumers control. It's important to determine which resonates better with your audience's values.
Understand what really matters to your audience: There are thousands of micro-interactions that can be personalized on any site. But what matters most to your audience? The visualization of the food – exercise equivalent shows a deep knowledge about why users are coming to the Sage app and what they fundamentally care about.
Test everything: It's easy to become overwhelmed with the idea of personalization, especially when you stop to contemplate a figure such as "1.2 million personalized versions of a home page." But remember: if you identify your highest value features and design choices, that will drive a personalization agenda that links with your customer's most urgent needs and desired experience. The end results will be more time on your site, better customer relationships, and more conversions. Use data to make these decisions. The easiest approach is leveraging a remote usability testing and a user testing platform like UserZoom, which allows brands to effortless test any aspect of their website with current visitors, existing customers, or the broader public.
Are you ready to learn more about remote usability testing and UX research platforms? Contact UserZoom today to arrange for a personalized demonstration and explore our technology solutions.