We hit 'publish' on the first episode of UXpeditious—UserZoom's podcast—on June 21st, 2022. We're now ten episodes through, bringing the first season of the podcast to a close. 
Across the ten episodes, we've welcomed the best minds from the world of user research, UX, design, and business thinking. They've given us some unmissable advice, guidance, and wisdom. So much so that we wanted to collect the best bits into one place. 
Here are some of the greatest insights, examples, tips and tricks we heard in the first ten episodes:


Episode 1:
"E-commerce is the number-one simple, clear-cut case for user experience return on investment."
Jakob Nielsen, co-founder, the Nielsen Norman Group (NN/g)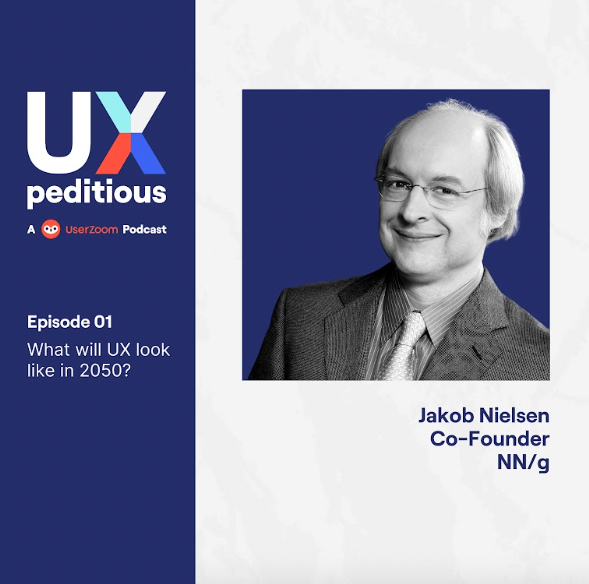 In our pilot episode, Jakob Nielsen takes us on a journey into the history of UX--offering predictions of what UX will look like in 2050. Nielsen predicts growth from the current 1.5 million UX professionals to a monumental 100 million over the next 30 years.
We asked Nielsen what that prediction means for the industry and for innovation. "There's not that much revolutionary innovation," says the user design legend. "The vast majority of the value comes from doing things right and integrating things." 
Listen to UXpeditious—Episode 1
Episode 2
"Take diversity and inclusion seriously."
Tematiyo Olasimbo, Research Operations Manager, Best Buy
How do diversity, equity, and inclusion impact user research? In this episode, we talk with Temmy about doing the good and difficult work of DE&I and how it impacts research and larger strategy design and business decisions.
An increasingly diverse population of consumers are asking for more, asking for a more tailored experience. And if they don't get it, there will be consequences: "To be frank," says Olasimbo if industries and businesses do not start taking this seriously, they're going to be caught with their pants down."
Listen to UXpeditious––Episode 2
Episode 3
"Scaling research is mandatory. You have to empower other people."
Kevin Newton, Manager of UX Research Practice, LinkedIn
Scaling UX research is perhaps the biggest topic in the industry right now. So how does one of the world's biggest social networks do it? LinkedIn's Kevin Newton discusses how the business social network is scaling up its UX capability. "Scaling research is mandatory, almost," says Kevin. "You have to empower other people."
Kevin sometimes sees resistance from UX researchers who feel uneasy about giving others the skills and tools to do their job. "I think the underlying fear is that we'll give our jobs away. And my response always to that is, trust me—no one wants to do your job, they have their own job."
Listen to UXpeditious––Episode 3
Episode 4
"Conflict management is part of the design process."
Susana La Luz-Hawkins, Research Department Director of Design & Customer Experience at J.P. Morgan Chase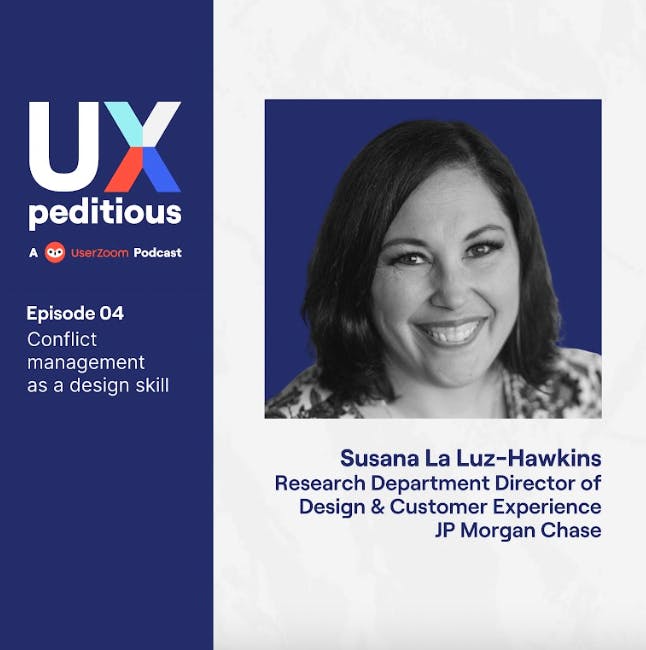 "Conflict has a really negative connotation, and it shouldn't," says Susana La Luz-Hawkins from J.P. Morgan Chase. "Recognizing that conflict is a good thing. That's the first step."
For Susanna, conflict management is an essential skill that all designers should learn: "I think it's really critical that we start teaching conflict negotiation and conflict management in schools, in design schools. There is always something underneath what the person is saying. As soon as you understand what really matters to this person, that's when you can start responding to it." 
Listen to UXpeditious––Episode 4
Episode 5
"Quantify usability through a usability rating method."
Christian Rohrer, Vice President of Experience Design, TD Bank
"Let's say we want to do a benchmark of a core product," says Christian Rohrer of TD Bank. "We want to know how well it's doing in terms of ease of use. For most companies, it's impractical to do this frequently—maybe it's done yearly or every six months." That's where the PURE Methodology comes in. PURE stands for 'Pragmatic Usability Rating by Experts' and is a usability-evaluation method that attempts to quantify how difficult a product is to use.
To find out how Christian puts the PURE methodology into practice, listen to the full podcast episode.
Listen to UXpeditious––Episode 5
Episode 6
"Eye tracking helps fill in the gaps that click data can miss."
Andrew Schall, Senior Director of Experience Design Research, Mayo Clinic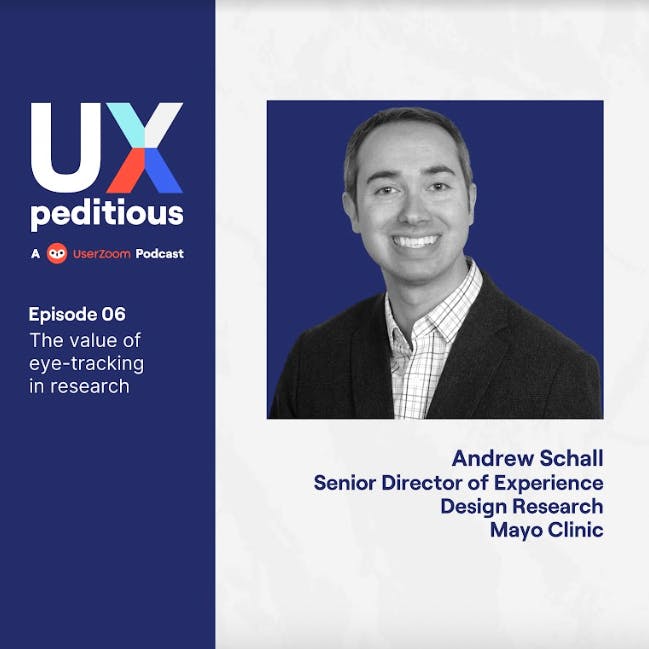 Andrew is leading the Mayo Clinic's eye-tracking user research, and the results are, well, eye-opening.
"There is value in click data, for sure," says Andrew. "But it really is a tiny percentage of what's actually happening because there are thousands of eye movements before you decided ultimately where to click with your mouse. So you're really missing a lot of the picture."
Listen to UXpeditious—Episode 6
Episode 7
"Go all-in on design platforming for large organizations."
Beverly May, VP of Research and Design, Allstate
As a large insurance company, Allstate needs to cater to a wide range of user expectations—as well as large teams of designers and researchers. Beverly May, VP of Research and Design at Allstate, is helping the insurer take a design platforming approach (in the spirit of Google's Material Design platform) to help the company deliver consistent experiences across both UX and CX touchpoints.
"For us it's processes, it's tooling, it's research repositories, it's design systems, it's repeatable standards, and guidelines and templates."
Listen to UXpeditious—Episode 7
Episode 8
"Understand the economics of the business."
Alec Levin, Founder, Learners
Learners provide professional education to UX researchers, designers, and product managers. Founder Alex Levin says: "If you don't understand how the business works, then you're not going to be effective and you're not going to be open-minded to understanding what are the real levers that make the enterprise run. And it's not to say that you're not trying to do right by your customers and right by your users."
In other words, both the needs of the user and the needs of the business need to be in balance.
Listen to UXpeditious—Episode 8
Episode 9
"Doing great research is only half your job. The other half is influencing."
Monal Chokshi, Senior Director, Head of Research & Insights, Dropbox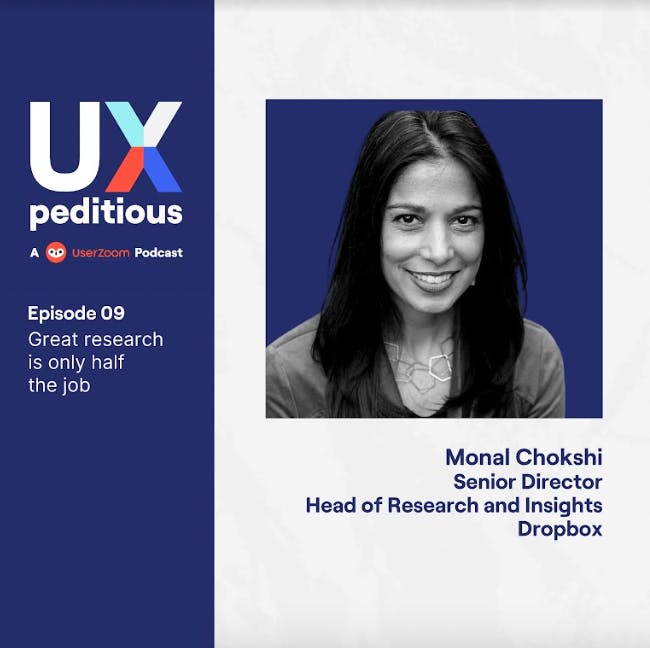 "If your insights aren't driving decision-making, it's not effective," says Monal, who has built and led UX teams for over 10 years, including those at Lyft, Intuit, and SoundCloud. "We need to plan time to ensure we're socializing and influence partners in the right way to help them understand how our insights can and will benefit the business."
Listen to episode 9 to hear Monal's tips for building a team from the ground up and boosting an existing team.
Listen to UXpeditious—Episode 9
Episode 10
"Never be satisfied with your own opinions. Make data-driven decision-making your daily goal"
Fanny Pourcenoux, Director of Global Design, Contentsquare
In episode 10 of UXpeditious, we spoke to Fanny Pourcenoux, Director of Global Design at digital experience analytics firm Contentsquare. "At Contentsquare, we have a motto: 'without data, this is just another opinion'," says Fanny. "Welcome to the era of quantitative UX. My team are naturally obsessed with data. They want to measure the performance of all their creations. They analyze their existing pages before creating new versions." Listen to the full episode to find out how Fanny and the team used data to drive conversions during Contentsquare's recent rebranding.
Hold tight—season 2 is coming soon
Set to launch on September 6th, the next season of UXpeditious is going to be outstanding. We'll be hearing from UX and design experts from organizations like Capital One, Harvard University, Walmart, and LightStream. It's gonna be great. Subscribe via your favorite podcast app today!