We have been working hard to make our moderated user research experience WCAG compliant, and implement a series of accessibility improvements.
In 2021, we doubled down on our commitment to digital accessibility, and after a lot of auditing, planning, fixing and validating, our Live Interviews participant experience is now WCAG 2.1 AA compliant inside the moderated interview session. 
But we have lots left to do.
We wanted to tell you about our journey towards accessibility, our future plans for improvement, and also let you know how we can help you improve the accessibility of your own digital products.
Before we get started, let's take a look at why accessibility is so important when creating great user experiences.


Why accessibility is important for UserZoom
For us, digital accessibility is important because we want to make sure that participants with diverse digital abilities can take part in UserZoom studies. Not only is this better for the participant, this also allows our customers to broaden their research and gain more useful insights from their studies, as well as gather 
 insights to make their user experiences more accessible. 
Our objective is twofold: to give disabled individuals more access to partake in research, and to help our customers make their products and services more accessible by doing research with these participants. 
Ultimately, however, it starts with us. We need to first make the participant experience with our study types accessible. We're taking our commitment to accessibility very seriously and in this article I'll outline where our digital accessibility journey started, where we are right now, and where we're going next. 
What do we mean by accessibility?
Web (or digital) accessibility, as explained by the W3C, relates to making sure that websites, tools, and technologies are designed and developed so that people with disabilities can use them. More specifically, so that people can perceive, understand, navigate, and interact with a website, and also contribute to it as well. 
What is A11Y and why is it important?
A11Y is a term coined by the A11Y project, a group working to help identify content related specifically to digital accessibility. It's a fun shortening of the word "Accessibility" as there are 11 characters between the A and the Y, also, in making digital experiences accessible you're acting as an "Ally" for those individuals with requirements for accessible technology. 
Making sure your software is accessible is important in order to provide equal access and equal opportunity to people with diverse abilities. The W3C mention that access to technologies like the Web is defined as a basic human right in the United Nations Convention on the Rights of Persons with Disabilities (UN CRPD), and is even required by law in some situations. 
First step: Identifying the gaps
The first step we took in our digital accessibility journey was to get help from experts. 
We decided to partner with Level Access Inc, a renowned player in the digital accessibility space. And the first task for us to complete was an audit for our "participant experience". This included the experience of taking a study and engaging with our panelist portal. Level Access helped us with a comprehensive evaluation against WCAG 2.1 A and AA standards which resulted in a list of fixes that we could plan into our sprints.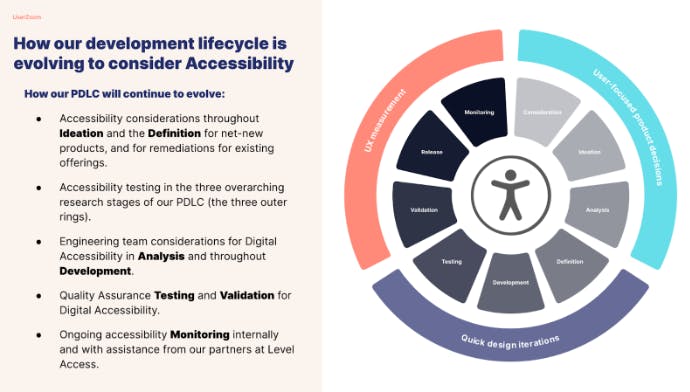 Level Access has also helped us educate ourselves about all things digital accessibility. We've built out internal processes to consider digital accessibility throughout our product development cycles, helping us think more broadly about how we design solutions, and ultimately stay WCAG compliant in the long run. 
Our PDLC has changed a lot since we began our partnership, and it'll continue to evolve as we progress on our journey. 
Fixing accessibility issues
We've been very busy these past few months fixing the issues found in our accessibility audit, and while we've got work to do, our in-session experience for our Live Interviews solution is now WCAG 2.1 AA compliant. 
Next up, we have some other user journeys to fix related to the Live Interviews solution, such as the camera and microphone checks. Our wider roadmap is available in our Action Plan (more on that below).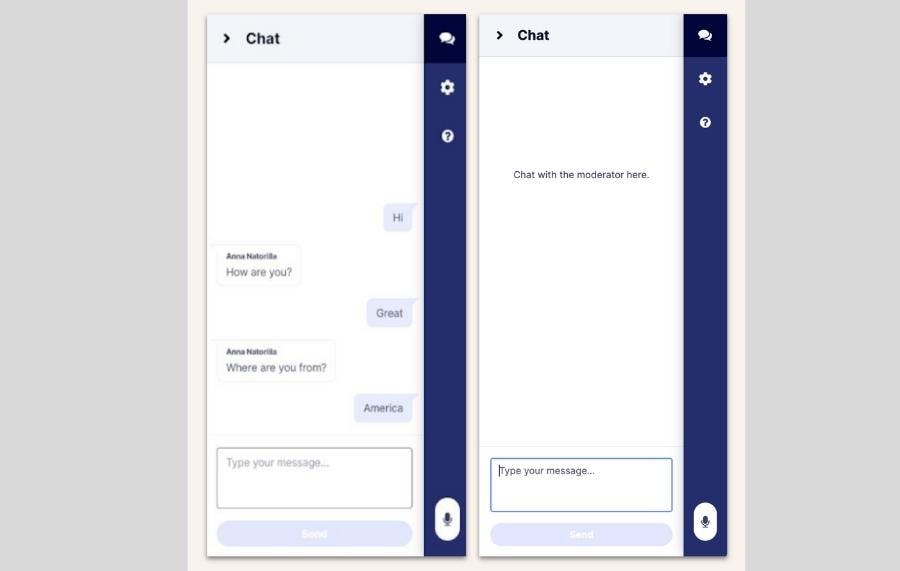 In the image above, you can see before (left) and after (right) example of improvements we've made to our moderated participant experience. Notice the improved focus state of the text-input field and WCAG 2.1 AA compliant placeholder text for increased accessibility.
Our VPAT & Accessibility Action Plan
Now that a part of our software is compliant, we have documented this in our Voluntary Product Accessibility Template (also known as the VPAT). The VPAT is best read alongside our Accessibility Action Plan, which is a broader document that outlines our wider intention to remove discrimination in the usage of our software, and our planned roadmap for achieving this. 
(The VPAT and Action Plan are available upon request, reach out to your Account Team or get in touch with us.)
What's next?
While we have lots left to do, we've come a long way already and we're certainly not slowing down. We're going to keep shipping accessibility improvements and we will continue to update our VPAT and Action Plan documents. 
Achieving WCAG compliance is a marathon, not a sprint, and the changes we've made on our journey have already helped us make important changes to the way we build software at UserZoom. There is much more to come, so stay tuned.
How we can help you with your accessibility journey
For those interested in similarly improving accessibility on your site/app, UserZoom is proud to announce that we now offer full-service accessibility testing on desktop and mobile. 
This service includes end-to-end research, in which our experienced researchers conduct remote, moderated accessibility testing with blind users who use screen reader assistive technology. The included report summarizes the pain points experienced by blind users on your site, and all findings are tied to WCAG guidelines and are illustrated with numerous clips. 
Through this service, we can help you build empathy in your team, avoid costly litigation, and make your product more inclusive. Reach out to your account team or get in touch here.